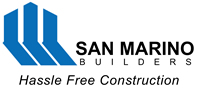 San Marino Builders is a sister company of philrealtyglobal.com, a Real Estate Company in the Philippines. San Marino Builders was born because of the need of our Real Estate clients to look for a contractor after purchasing from us. Instead of leading them to other companies, we thought of building our own team and start a construction company. Since then, most of San Marino's clients are from Philrealty. However, San Marino has been making its own name and is starting to get clients on its own through our website, signages on the houses we build and referrals from our very own clients.
Here at San Marino, we value quality, design, convenience and our relationship with our clients. We build each home as if its ours, as if its us who will be living there. This means, we work each time with excellence and care because its as if its our own! And convenience because most of our clients are foreigners in a relationship/ married to Filipinas or OFWs and more often are outside the country during the construction. We make it a hassle-free construction for them as we take care of their house building while they are away; we also send them up to date photos of the new developments in the construction once in a while. Most of our clients became our good friends as well, some invite us to be their "ninong" on their wedding day, some became our hosts when we visit their country and some became our future cruise-mates.
Our expertise is on Mediterranean houses but we have done Modern Asian and other designs with excellence as well. Over nine years of experience, we we have made several houses already and a korean school in Alabang. Some of the subdivisions that we had a construction already are: Punta Fuego, BF Homes, Ayala Greenfield Estates, Portofino, Sta. Elena, Tagaytay Highlands among others. We are confident of our finished projects and would be happy to show some of them to you. Build your dreams with San Marino Builders.
Please visit our website so you can see our finish house projects.