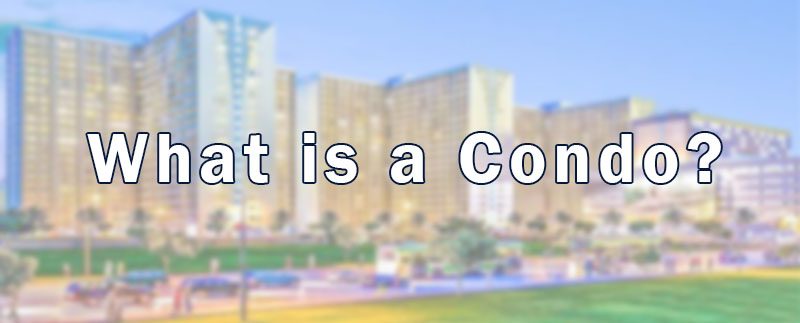 Introduction
Buying condominium became a trend since 2001 when the real estate markets have reached their sustainable growth. In addition to this, huge demand for commercial and residential properties became the result of the rapid increase of BPO companies wanting to keep in check the existing possibilities of the Philippine workforce.
Furthermore, some Overseas Filipino workers (OFW) have chosen to invest in a condo to serve as a home for them and their families. In fact, some migrant workers were found to purchase condominium units for sale in the Philippines while still abroad.
What is a condo?
In spite of commonly attributing condominiums to tall buildings we see in the city, condo pertains to the type of ownership and not to the type of building. Distinction between different types of home usually comes down to the type of ownership.
While a single-family home can easily be distinguished as we see it, some home types are hard to differentiate from another. For example, in a single-family house, you own the structure like the house and garage and also the land in which the house is set.
On the other hand, in a townhouse the owner owns the interior and exterior of part of a multi-unit complex where at least one interior wall was shared by neighbors. In a Condominium or condo, the owner only owns the interior part of the unit in a multi-unit property.
The unit is the part of the individually owned property. All other areas in a condo such as the building's exterior, hallways, lobbies, lawn and other community facilities are owned either by exclusive ownership, joint ownership or a governing entity or association. Owners of each units are members of the association.
Condominium living draws favorable attention to home buyers because it is often affordable and most of it has advanced security features than those with single-family houses. It is also now considered as efficient and valuable form of living.
Condominium varies in sizes and features. It also has a diverse price range. You can choose what best fits your budget. It also comes in different types -new condo, resale condo, and conversion condo.
New Condominium – Can be customized by the buyer because it comes in its planning stage, under construction or recently completed; and is usually bought from a developer.
Resale Condominium – An existing condo that is owned by an individual, brand new or used.
Conversion Condominium – Units that have been used and converted for residential use (e.g. commercial or industrial buildings that have been renovated to residential, rental units to condominium units)
Condominiums can also be both partly residential and partly commercial building called a mixed-use condo.
Types of Condominium Buildings in the Philippines
High rise – Ten (10) or more story buildings with four (4) to eight (8) units per floor, on the average. It has lobbies, secured access and elevators. Requires high investment.
Mid-rise – Usually four (4) to six (6) story building. Best for families due to features (e.g. open clubhouses, multi-activity pools, play and game area, gym, open spaces for walking and jogging, gazebos, etc.) that every family member will enjoy.
Low-rise – Often one (1) to three (3) story building. Like a townhouse but has entrances from the outside
Young professionals who want to live near their workplace and prefer living within the business districts of the city might want to prefer high rise condo while mid-rise and low-rise condo is best for families.
Mid-rise and low-rise condominiums are usually located along accessible city borders and not in the middle of industrial and business areas in the city. It is quieter to live in a mid-rise and low-rise than in a high-rise condominium.
Low-rise condominiums offer fewer features and amenities than in high rise condo. It also provides lower cost. Living in low-rise condominium usually offers more privacy and negotiability of rent and utilities than in high rise.
In the Philippines, condominiums are not only limited to city areas. Suburban areas like Laguna, Rizal Pampanga and Pangasinan which are located nearby the National Capital Region (NCR) were also said to be a location of some condominiums. Developers of real estates are expanding the market for condominiums.
Condominium Units in the Philippines
Condominium units are differentiated according to its classification and type.
Classification
Mass market – It is usually developed at the outskirts or in developing areas. It is affordable and it usually targets students as its market. Units are usually dense. Units per floor are usually more than the usual. It often offers basic amenities like swimming pool, parking area and elevator or none at all.
Mid-market – It is usually located near business centers or central business districts. Offers more space and more features and amenities than in mass market. It may have sauna room, function area, jogging or walking path and fitness gym. it usually offers studio type and/or 2-bedroom unit. It is best for professionals and for newly-wed couples.
High-end – It is usually located at the center of prime locations and offers exclusive amenities like sky pools, private elevators, helipad, butler service, direct access to shopping malls, etc. It usually costs at least a hundred million pesos depending on the developer. Some properties offer card-carrying exclusives that give services and/or discounts.
Type
Studio – It is the most affordable but with limited floor area. It has an open floor layout. Bathroom, living room, kitchen and bedroom are all integrated. It is recommended for single dwellers and couples.
Bedroom units – Because of partitions of bedroom, it is often the most recommended type. It may vary from one to four bedrooms and sometimes come with maid's room. It is recommended for starter or growing families who wants more private settings within urban or suburban locations.
Loft – It is usually characterized with high ceilings and an elevated bedroom accessed by stairs. It does not offer full partition between bedroom areas due to its open-floor plan settings. It is recommended for senior, and couples with toddlers.
Bi-level – It has a similar layout with two-story house expect that it is built within a residential building. Unlike loft types, bi-level units do not have an open second level.
Penthouse – It is the most expensive type. It is usually located on the topmost floor of a residential building. It comes with huge floor area and offers exclusive features and/or amenities not available for other residents. Layouts can be customized and personalized.
Unique Ownership of a Condo
Owning a condo unit means having the unit registered to your name including sharing of ownership of some common elements and assets of the building or the community. In a condo, you have fewer maintenance and repair responsibilities.
You also have access to amenities and features available in the area and security features are usually enhanced. Community covers a wide range of social, entertainment and/or recreational activities depending on the type of condominium.
As an owner, you also have the right to be elected as one of the officials in the association governing the residential building you are in. Monthly maintenance and fees in a condo are usually predictable.
Some disadvantages of owning a condo includes not being able to decide when maintenance or repair will be done, paying for extra fees that you may not really use, less privacy due to closeness of each units and lesser space. A
n owner of a condo unit is also restricted to remark on noise levels, parking areas, pets, smoking, and even on colors and styles of features like windows and doors.
Who runs a condo?
A condominium is collectively run by the unit owners. These unit owners are all members of the condominium corporation. They manage the property, finances, records, reserve fund study agreements and other related matters.
The Board of directors or officials are elected by each members to oversee condo operations. Moreover, a property manager is being hired to manage day-to-day maintenance and repair.
Common Area
Common areas or limited common elements are areas which are owned or shared by all owners of each unit. It includes the basement, ceilings, elevators, floors, foundation, halls, lobbies, roofs, etc. Installations of central services are also included to common area or common elements.
It includes heating and air conditioning, electricity, gas and water. Furthermore, common areas also include the land on which the building is set and the parking areas, clubhouses, gardens, playgrounds, courts and swimming pools.
Managing a Condo: Condominium Corporation
Management of condominium is under the condominium corporation. Condominium corporation consists of all owners of condo units as stated in the condominium plan.
Basically, all owners of the units in a condominium is part of the condominium corporation. A corporation has legal powers over the common areas or elements.
Duties of a Condominium Corporation
Condominium corporation is the one responsible for the control, management and administration of the units. They are the one who enforce laws and regulations to be implemented.
They keep the common areas in a state of good service and make sure that it is maintained properly. They ensure to comply with legal orders of the local authority and other public authorities.
Tips Before Buying a Condo
Now that we have learned some basics about condominiums, here are some other tips that may help you decide which type of condo is suitable for you.
Don't think too much about the location. Established and trusted condominiums are basically placed to nice locations.
Compare the price. Know your target market. Choose what is best fits your budget and at the same time, what matches your lifestyle.
Deal only with reliable developers.
Know your payment/financing options.
Lastly, plan and be updated about current trends in condominium market.
Indeed, Condominium investment has become a desirable investment. It has gradually changed from being a highlife investment to a worthwhile investment serving many functions. By now, we can tell that you are now ready to buy a condo.