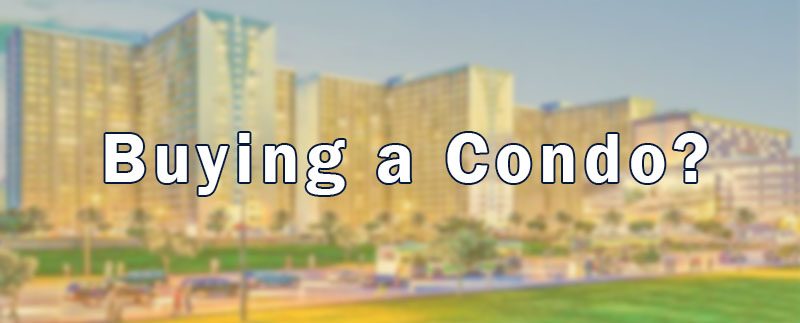 Introduction
In these article, we have learned about some basic information about condominiums. We have learned that a condominium is not only limited to high buildings or skyscrapers but also may come as mid-level and/or low-rise buildings.
We also became familiar with some types and classifications of different condominiums available here in the Philippines and learned benefits and disadvantages of owning one. Some tips were also given and advises before you finally decide to purchase one.
In this article, we will focus on purchasing a condominium. Emphasizing on the market for condominiums or its buyers. Included also are reasons and some other considerations before buying one.
The Buyers
Condominium is attractive to any individuals and anyone may decide to own one. But commonly, this type of home draws special attention to frequent travelers, graduate students, young professionals and young couples.
We have clients who wants less maintenance type of home. Since an association often takes care of repairs and maintenance needed in a condominium, those clients often consider to buy a condo. Some condominium communities also offer plenty of opportunities for socializing and other related activities that are attractive to them. So if you're like them who would want less maintenance cost, a condo unit is a perfect option for you as a buyer.
In the case of frequent traveler homeowners, regardless of their age, maintenance-free lifestyle that condo provides them an advantage. They can enjoy and have more flexible time without worrying with what they left at home.
In the case of graduate students and young professionals, owning a condominium unit is beneficial if they want to live near their university or office. Since condos are usually located on or nearby urban and suburban areas, direct and easy access to conveniences and social opportunities are met.
For young couples who were just starting their own family, buying a condo may be more practical than purchasing a single-family home. Especially when they are not yet planning to have children. Amenities and features of a condominium might also be attractive to this market.
Regardless of how you classify yourself, knowing the level of willingness and ability to pay according to budget should be considered. In addition to this, your preferred lifestyle should also be taken into consideration. Taking note of what kind of amenities, features and other related matters might also be helpful in your decision. If you haven't decided yet, below are some reasons on why you should buy a condo.
Amenities
All throughout this article, amenities and features are always emphasized to be some of the benefits of owning a condo. The difference of amenities offered in a condo to the ones offered in single-family house for example is the affordability of its access.
Amenities in condominiums are more practical than in individually owned houses because the payment or fees are shared by each unit owners. You can enjoy clubhouses, golf courses, sport facilities, pools, fitness gym and other related stuffs without the worry of shouldering all expensive payment. You are not also meant to worry about maintenance and repair to do because it is well taken care of the governing entity in the condo.
Community
Strong sense of community is offered by a condo. Since it is governed by an association, occasional planned social events allow each owner to interact with other members of the community or neighbors. On the other hand, you may expect less sense of community to condominiums with most rental programs due to short-term renters. Moving of short-term renters from one residential to another on a regular basis is a reality.
Desirable Location
Most condominiums are located in a desirable location. It can be located in an urban or suburban area. Within the city or on its boundaries. Wherever it may be, it will sure provide its owners direct and easy access to conveniences like business centers and offices, schools and universities, shopping centers, coffee shops, etc.
Equity and Tax Advantage
It is more advantageous to own a condo than renting one. You can utilize tax deductions for mortgage interest and property tax if you are the owner and you also have the opportunity to build equity. When monthly mortgage payment is of the same amount or more than the rent, it is advisable to purchase a condo than renting it. That way you can save more.
Price
Prices of condo varies depending on its classification and type. While it is said that it is cheaper than single-family houses, this is not always the situation in all markets. But you can always find relatively smaller and more affordable condos nearby the city than single-family homes which often come as huge and expensive.
Reasons presented above are just few of the advantages or benefits you might get if you purchase a condo. Now let us continue with the things we should consider when you decide to buy a condo.
Things to consider when buying a condo
Look over the measurements of the unit. Does it follow the one you expect it to be, as presented by the seller? Look at its boundaries, actual floor area, walls, and other parts.
Find out whether or not the building is well accessible.
Check all amenities.
Ask the seller about the community in the condo. Know the allowed level of noise between neighbors, if the units are all well ventilated, if the building is water and energy efficient, if the repairs and maintenance are well managed, and if the building follows environmental considerations.
Be clear on what is included in your purchase so that you can assess all costs you have to pay.
Verify if the required condo fees are realistic.
Investigate if there are any possible hidden costs passed to you.
Check if the unit and the building itself is well constructed and follows legal regulations.
Do not forget to evaluate the current construction status. Confirm also if there are any legal issues against the association
Learn all your legal rights as a buyer. You may consult a lawyer before officially signing any documents.
Features of a condo
Listed below are some important features to consider before officially buying a condo.
Some condominium communities offer age-restrictions. Age-restricted condo usually caters older people. Those are labeled as "retirement communities" or "active adult communities". It is important to ensure that restriction is not illegally discriminatory but legally follows regulations.
Since common areas or amenities are attractive to buyers, it is important to note about its availability and if it is accessible or not.
A good parking area is a must. Some condominiums offer parking passes to each member or unit owner. Added security feature to parking lots is an advantage.
Check for security features. See if there are any security guards and surveillance cameras available inside and outside the building especially in the common areas.
Consider the space of your unit. It should have enough space, rooms and adequate storage space.
New condominium common fees and other fees
Condominium owners should know if they are willing and able to pay for monthly amortization and other additional fees. Condominium fees for new owners not only pertain to monthly amortization.
There are some other fees new owners have to shoulder. These are fees and taxes required by the government. One additional fee is the association dues.
These are fees you have to pay for the condo building to be continually operational. It is the responsibility of the governing entity or the homeowners' association.
The money collected will be used for operational expenses and to maintain the order of amenities available in the condo. The price varies depending on the size of the unit and the kind of amenities available in the condo.
Failure to pay the dues on time will subject you to penalties and conditions that depend on what the association has agreed upon.
For other fees, ensure that you talk about connection charges for utilities with the seller. Ask about legal arrangements and/or exclusive agreements with water, cable, phone, and electricity charges.
In addition, if you own a vehicle, expect parking fees. Include it in your list of expenses. If parking areas are limited, parking fees might be expensive. Owning more than one car means paying for separate slots and will cost you an extra fee.
There is always pros and cons to everything. Purchasing a condo unit is not an exemption. You might always find someone who own a condo and enjoys living in it.
On the other side, you might also find someone who wished that he/she should have bought a house instead. The decision of buying a condo depends on your preference and plans for the future. All information stated above are just few tips on buying a condo.
You may always search for more information or decide to meet with a developer. The final decision is yours.